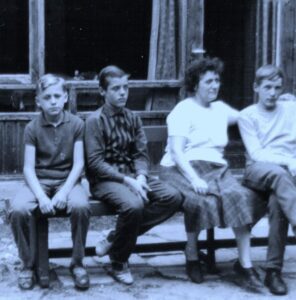 THE PERFECT PREPARATION
Written by Bert Plomp
Translated by Helena Clarkson
During this brief period I also had a short adventure kind of a one-night stand actually with another blonde young lady, in Driebergen, a village 15 miles away from Utrecht.
This girl also did remind me a lot of the educational Swedish books from my past. These books did impress me a lot apparently; still after this short but sweet affair, I was totally over blondes for quite while.
During an evening of dancing at the "Prince of Orange club" in the town of Driebergen, the name alone all would prevent me to come back to this kind of establishment, I did meet up with this nice looking young lady however and after some slow cheek to cheek dancing on the music of "the Blue Diamonds", this group had life concerts there in those days, did this evening come to an smooth ending around 11pm.
This particular evening I rode my trusted Tomos to Driebergen and at the end of the evening I volunteered to take this lovely damsel home on the moped.
She lived downtown, so it was not a far ride and she invited me into her lovely home and she assured me that her parents were away for the weekend, which enticed me even more to come inside.
I suppose I could not have wished for a more ideal situation to finally perhaps have an intimate relationship with a girl. Compared to my earlier fiasco under the viaduct this opportunity appears heavenly in comparison.
She led me to her bedroom and it was nice and cozy in the house. As we were now on the bed making out heavily and in my excitement I raked my fingers passionately through her beautiful long blonde hair, when to my surprise and great consternation, I noticed the beautiful blonde next to me all of sudden had become bald as a cue ball, while her gorgeous blonde wig finished up on the floor.
As I had very little experience in the romance department yet, was my initial rush of excitement totally deflated after this bizarre incident and I immediately ran for the hills towards the German border on my trusty Tomos. Later on I realized I had acted like a coward in this drama.
Back home in the meantime in the Lodewijk Napoleon Park, I enjoyed every evening the view of a very pretty neighbor girl who was blossoming fast into a gorgeous woman. She kept her curtains in her bedroom just open far enough, so she could be observed from outside. Her sensuous exercises got me quite excited I admit.
Too bad my bedroom in those days was situated on the ground floor and hers was on the third floor. Our neighbor on the third floor must have truly witnessed some glorious shows during that time.
With Jeanie an Indian girl I do recall a lively affair before I got married.
Jeanie lived in "Huis Ter Heide" (a small village not far away from Utrecht) and her father was working at the Air force base nearby.
During my footloose and fancy-free travels I stopped in Zeist in the café "Oedipus" in 1965, this was a kind of pub where a lot of jazz was played and a kind of meeting place for a lot of modern young people.
In the middle of that place surrounded by many young people I saw this gorgeous Indian girl. I did not only notice that she was beautiful but also the fact that she was wearing a heavy cast on one of her legs.
Soon we were chatting each other up and we immediately hit it off quite well.
We were dating heavily for at least a year or more. Since I now had reached the ripe old age of 18 almost and still not had gone all the way with a girl, I wanted the approach with Jeanie be perfect and plan things right for a change and decided not leave anything to be left to fate.
Also my female anatomy knowledge had tremendously improved, I doubt or I could compete in knowledge with the little boy in Staphorst perhaps, still I felt cock-sure that I would finish the race like a champion this time around!
Plotting and planning ahead for weeks, it looked like we were going to commit the perfect crime. I studied all possibilities and I was perhaps almost over prepared.
In those days my parents were the proud owners of a brick bungalow in the so-called "Big Forest" a popular camping in the area of the village of Driebergen.
This lovely bungalow not only had a nice paraffin heater and a shower stall, last but not least there was a good size bed next that paraffin heater as well!
Once again I have to emphasize the presence of this paraffin heater as this episode took place during Christmas vacation when we in the Netherlands still had very cold winters. During the 60's and Christmas vacation in the big exhibition halls in Utrecht, the so-called Christmas tournament took place for students of higher education.
The sport I am talking about was handball and it was an exciting occasion as many students would show up to watch their own team to cheer them on for support.
Many of the students were of the opposite sex and that was for the young male athletes a good reason to really show off in front of these pretty girls.
Each year I was part of a team, but this particular year I had decided, it was high time to show my capabilities in a different sport's activity, but my family didn't know any better or I was busy playing handball again.
Rather deviously, I had managed to make a copy of my parents' bungalow key too.
Jeanie and I had carefully studied the extensive bus schedule especially for our secret meeting. Liken when Jeanie would leave from Huis Ter Heide and what time I would be traveling from Utrecht and where we would then meet each other at the main bus stop in Zeist, a town halfway Utrecht and Huis Ter Heide.
Like Swiss clockwork we arrived around the noon hour and looked like we would have plenty of time to enjoy one another during our secret tête-à-tête.
About a half hour later we arrived with high expectations at the backdoor of the bungalow. Upon arrival, I immediately turned on that all-important heater on high to make the bungalow nice and warm and cozy for us. When the room came to the comfortable temperature we snuggled on the bed together and got rid of all clothing, which would surely be in the way.
So there we finished up stark naked, in a passionate lover's embrace. All appeared to be perfect in every way.
The lovely Jeanie was delicious and quite fortunately for both of us, her cumbersome cast had been removed a while back now.
No living human being anywhere in the vicinity and the room was so cozy and warm.
Just about the time we started to really getting turned on and ready to get to know one another in the biblical way, I heard a car engine stop nearby the cabin. And only seconds later I heard my dear younger brother Charles scream loudly: "Pa look all the curtains are closed!"
Jeanie and I immediately froze both in a state of shock and before we got our wits back and find the adrenaline needed to jump into our scattered clothes, my dad and darling little brother entered the Bungalow and caught the lovely Jeanie and myself literally with our pants down, while still scrambling wildly to get dressed.
My dad stared long and hard, while he oversaw this embarrassing situation with perhaps a look of wishful thinking of days gone by? I mean which healthy young man would not want to jump in the sack with a beautiful girl like my Jeanie?
My father felt responsible to bring Jeanie immediately home to Huis Ter Heide and summed up briefly in a short speech what the reason of his visit was to her parents and why he had brought her home.
Afterwards I got the much longer version of this speech, which resembled a long Sunday church sermon actually.
Getting a spanking was no longer an option in those days, as there was a remote possibility I might defend myself and hit back.
Afterwards I always was rather suspicious about the role, my sweet little brother Charles played in this drama, as I always suspected, that he was the little snitch who tattled my clever plan to my parents and thus ruined my perfectly planned tryst with Jeanie forever more.