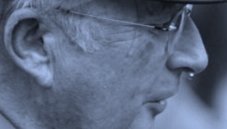 A NOSE FOR DETECTING DELICIOUS PATISSERIE
Written by Bert Plomp
Translated by Helena Clarkson
Mr. Ter Steege was an old colleague of my parents when all of them still were in service of the Salvation Army. His rank was a bit lower than my folks when they all worked for this admirable organization. But he remained a loyal friend after my parents eventually decided to leave the Salvation Army. I am sure Mr. Ter Steege must have had a first name and it was definitely not "Ter" but he was referred to by all of us in the family as simply "Ter Steege". (In clarification for my English speaking friends the word "ter" by the way is translated as "at or at the location" in Dutch).
Ter Steege would arrive consistently, every day for a hot meal at our apartment, with our family when we all still lived at Lodewijk Napoleonplantsoen in Utrecht in the Netherlands.
My dear mother would serve her "fabulous" meals almost exactly at "high noon" in those days.
So when my two brothers Theo and Charles and our sis Saskia and I came home from school, we would run up the stairs to our apartment on the third floor and we would usually run into Ter Steege walking sedately up those very same stairs. All of us would kind of wonder what was for lunch that day.
The old gentleman was well in his 70's, but showed a considerable amount more appreciation for mom's cooking skills, than us kids did as I recall. After all he chose to eat with us every single day, seven days a week. Besides, it was quite a walk for a fellow of his advanced age, as it took at least a half hour from his house to ours and he walked this back and forth daily, come rain or come shine. Eventually, when he was no longer physically able to walk the huge distance from his house to ours anymore, we used to pick him up with our trusted old Opel (small European economy car) for a while.
Around that time, he became too old to handle the stairs up to our third floor apartment and riding on the back my Tomos moped did not entice him very much either. My Tomos was my pride and joy Harley Davidson wannabe in those days.
I suppose I couldn't blame him very much for this notion for refusing my ride, for besides shaking his elderly bones out of joint, the ride may have rattled the poor old fellow's teeth as well?
So all with all, my Tomos probably was not the vehicle of choice to transport an elderly gentleman like Ter Steege in comfort.
Since the old man still appreciated receiving mom's home cooked daily meals on a daily basis, I continued to bring him his special "meals on wheels" per motorbike instead. They were brought inside a sort special lunch box neatly assembled by my thoughtful mother.
Ter Steege was always extremely grateful for his "meals on wheels" and instead of a simple thank you he would frequently remind me it was time for my birthday present once again. According to him, it was always was close to my birthday and according to his calculations I must have had a birthday several times a year. Obviously he never worried about my real birthday date; so I used to get an old-fashioned silver coin piece valued at 2 Dutch guilders and fifty cents. Frequently I would receive this money piece while his postnasal droplets dripped over time, making the coin somewhat slick and shiny, but "Pecunia non olet"!
In the days that Ter Steege still was able to walk upstairs to the 3rd floor, he used to impress our family quite a bit because of his remarkable eyesight he appeared to be in possession of, even at his advanced age… he used to stand in front of the window in our big picture window in our dining room/bedroom and looked outside in the direction of the old Dom Tower*, way in the distance of downtown Utrecht and then announced to us exactly the correct time, according to the clock of this immense high and ancient tower. Much later we actually caught him in the act of first sneaking a peek at his old silver pocket watch, before making his brilliant as well as perfect time prediction.
During one of my visits to the Andreas Street on a stifling hot summer's day I noticed a serious column of smoke coming from the chimney of Ter Steege's home. When I stormed into his house, in fear of it may be on fire, there he was sitting calmly in front of his heater. This heater was burning at the highest burner possible, while he sat there happily enjoying the warm comfort, in the hotter than Hades' room.
The old man was seated smiling contently in his chair and welcomed me graciously into his humble abode and invited for me have a seat next to his white-hot heater. When I questioned him why the heater was at the highest setting, he just nodded towards the old organ situated in the corner of the room. As it not immediately was clear to me how one problem was connected with the other; he then explained to me that the organ in the corner, somehow had become somewhat dampish and I suppose this was comparable to a sort of musical-organ cold? The best way of course, to cure the antique instrument according to the old man's reasoning, was to turn up the heater to this beastly hot temperature, so it would dry out fast.
Frequently he would treat us to some beautiful play for us to listen to on this old organ and that would resemble like two identical "nose drops of liquid snot", the piece of music fragment from the movie Nosferatu, eine Symphonie des Grauens. In this case, it really looked it was actually Max Schreck, come back from the grave, who was playing this macabre classic. Old Ter Steege also had a somewhat younger friend called Dupre.
This fellow always kind of reminded me of some escapee from a mental hospital in this case, the "Willem Arntz House" located in the Nicolaas Dwarsstreet. Some how the kind of character comes to mind, which eventually will cause the company some serious lawsuit in the future perhaps? He had a rather frightening and perhaps maniacal appearance about him. His haircut did not help his looks much either of course, for he possessed a very high forehead and shaved himself quite bald except for a few missed short stubby bristles on the top of his skull. The shaving on the head he did totally by himself, he used a heavy-duty apparatus used originally to shear a herd of sheep with. My dear father who frequently was looking for a fast bargain, allowed him to perform this rather severe hairstyle on himself at a regular basis and then my dad did resemble some one from the wrong side of the Eastern border of the Netherlands during World War II, with this scary forties look.
In the Andreas Street not far from where Ter Steege lived there also was a school in the sixties for students who had plans to become famous pastry chefs in the future. So if we ever had to celebrate at home a birthday of importance, then we always arranged for Ter Steege to help us out. As he had many important contacts at this famous school for fine pastries, like he knew the director as well as many school-instructors and since he had all these important contacts, he could practically guarantee that we would have indeed, first class pastries for our special celebration!
The boys who worked there were of course still students or very recent graduates of the school and the pastries they produced were perhaps a bit on the soft side and rather sweet perhaps and also kind of small, but most important, they were quite cheap!
So if there was a special celebration coming up, we would mention this to the old man and he would order the required number of a variety of yummy looking pastries. These pastries were always of a mixed variety, for real "specialty pastries" were a bit too difficult to handle for the new chefs at this time of their career and if they actually were capable of doing so; the price immediately went up threefold!
So whenever this special day to celebrate for us had arrived, I was frequently asked to pick up our box with delicacies from our middleman Ter Steege. Before I could return home with the box full of goodies on the back of my Tomos moped, Ter Steege opened the box with pastries always one more time to make sure, all the delicious cakes were present and accounted for and exactly conformed to the order and wishes of my parents.
This last inspection, would immediately get my special attention for during this final opening of the box, while Ter Steege nodded with delight over the content of it, his nose started to run again like a dripping faucet and drops of water started falling into the box of our mixed pastries. I would watch carefully where these drops hit the pastries and I made a serious mental note in my memory, where those droplets actually fell. I would then precisely remember the pastries that were slightly "proboscis sprayed" and I would quickly put aside a safe untouched creamy cake apart for myself for later consumption from a pristine untouched row.
As soon as I arrived home with my box full of goodies, I then would make the rounds in the family room to give all the visitors a chance to pick out there favorite pastry. After everyone had enjoyed eating these creamy morsels, I always liked to get an opinion especially from the poor unknowing victims of eating tainted pastries, whether they had enjoyed their just or perhaps unjust deserts and whether they thought that these patisseries were of good quality? Since all our visitor always raved over our treats it was quite obvious these pastries were always a truly successful hit with our entire company; so we sensibly continued to use our dear friend Ter Steege for many years to be our middleman whenever we needed a delicious treat for a special occasions by ordering fancy pastries from the famous school for future pastry chefs in Utrecht!
*When you ever visit the city of Utrecht, you really have to visit the Dom Tower. The highest and oldest church tower in Holland is Utrecht's main landmark. The Dom Tower was built between 1321 and 1382 and is 112 meters high. Even if you can't see it, you are still likely to hear one of its thirteen bells that weigh between 880 and 18,000 pounds.
THE END
For all stories click: Stories
For more free stories and columns, please become a member of my FB-page: